Life can be lonely when you're young, rich, beautiful, and slutty. It's even worse when you are a complete idiot. Nobody can understand the misery that you go through on a daily basis. You can only wake up in a pool of your own vomit in the back of your limo at 4 PM so many times before you start to desire somebody to share that feeling with. Discovering your panties are soaked in the urine of a stranger is an experience that should be shared.
LOS ANGELES (AP) - Hotel heiress and "The Simple Life" reality TV star Paris Hilton is reportedly engaged to Greek shipping heir Paris Latsis.

"They are happy and excited," Hilton spokesman Rob Shuter told People magazine, which reported the engagement Monday on its Web site.

Latsis proposed to the 24-year-old Hilton Wednesday after she returned from a three-week publicity tour in Europe to promote her horror flick "House of Wax" and her new fragrance.

Paris Hilton is marrying this guy...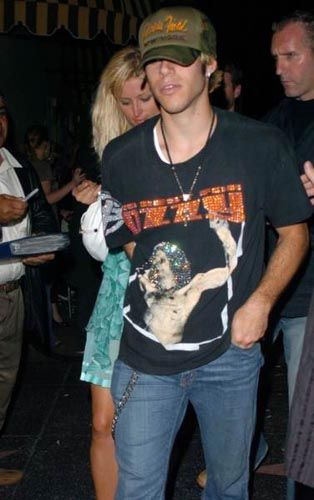 yeah, that guy...

Everyone's favorite GED wielding hotel heiress is getting hitched to another idiot with too much money named Paris. This just seems pompous. I am firmly against marrying somebody that shares your first name. I will never ever marry some chick named "Will". I'm not going to pretend to know the inner workings of their relationship but, is being Paris Hilton so difficult that the only one that would understand is the male version of her? Is she even smart enough to think that way? Does she think it's just cute to be in a relationship that could be called "P2" by the rumor mongering sheets/sites? These are the questions that the people demand answers to. I shall not sleep until I discover the truth...
Which is why you people should give me money for an 8-ball. You can donate my drug money to the Team Wilco Pay Pal account. The button is located on the right. It's the one that says "Pay Pal"... clever huh?
****

In unrelated news...
While fucking around on the Internet at 5 AM on Sunday morning, I may or may not have been on drugs at the time, I discovered a
site
that I think is hilarious. I recommend it to anyone that likes or hates Basketball. I liked the articles by
Shawn Bradley
and
Dirk Nowitzki
the most, I'm a bit of a homer. So read it, or Magic Johnson will give you the AIDs.