WOODSTOCK, N.Y. - Singer
Art Garfunkel, who pleaded guilty last year to pot possession in upstate New York, was charged again Sunday after a marijuana cigarette was allegedly found in the ashtray of his car, state police said.
I'm going to rest easy tonight knowing that mast criminal Art Garfunkel is off the streets. For those of you that aren't in nursing homes, Art Garfunkel is the tall creepy guy that isn't Paul Simon. Nobody believed me when I claimed that he was the anti-Christ. I have photo proof.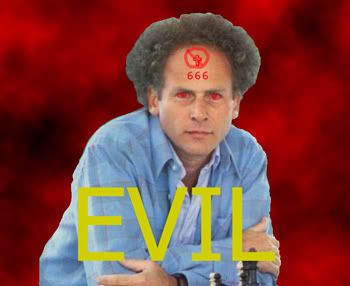 This photo was totally not photoshopped.
Totally.

Why can't they just leave this dude alone? I'm sure he doesn't hurt anybody and busting him for pot is like somebody commenting on me for being sexy. I know it's tempting but it's just too easy. If you are going to break his balls then at least have the decency to plant something on him. Crack, dead hooker, child porn, anything will do.
Does it bother anybody else that this took place in Woodstock? Did anybody tell Art that it was over? I guess Woody Allen was right, Paul Simon really is a douche bag. That's the only thing I learned from
Annie Hall
. Don't trust Paul Simon.