BOGOTA, Colombia - Naomi Campbell has spoken out in support of Kate Moss, who has lost three modeling contracts and is being investigated by London police on allegations that she used cocaine.

"Kate Moss is my friend ... I think it's like everybody is being bad to her," the 35-year-old supermodel told a news conference Sunday in the Colombian capital where she was judging a modeling competition.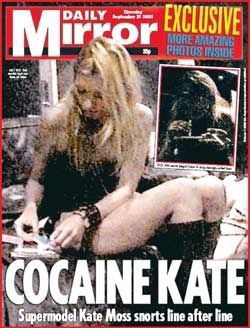 Kate Moss lost those modeling contracts after pictures of her doing cocaine off of a CD case hit all the tabloids. I never thought Kate Moss was hot but there's something about a dirty whore doing lines that does something to me. I'm sure finding out that super models do coke isn't a shock to the agencies or companies that she was working for but, you might not want Naomi Campbell defending you. If you recall, that's the crazy bitch that openly admits that her life was almost ended because of her cocaine use. I don't feel sorry for super models that get caught being super models. This is what they do. They dress like homeless people and go on coke binges. It's actually quite beautiful. I refuse to believe that there is some sort of conspiracy against Naomi's friend Kate. Maybe she's losing jobs because she was caught doing coke on film. Only mayors can get caught doing cocaine products and maintain their job.