WASHINGTON - A long time ago, in a galaxy far, far away, a Wookiee named Chewbacca growled and howled his way through "Star Wars" movies. On Monday, the actor who played him will take the oath to become an American citizen.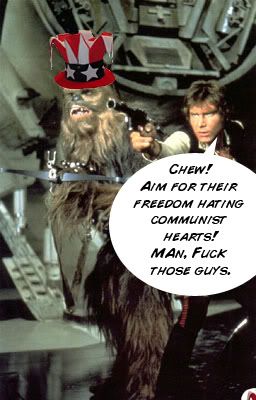 I'm sick and tired of all these immigrants coming to this great country and taking all of our jobs. My grandmother didn't immigrate here from the Philippines to put up with that kind of bullshit. She didn't put in decades of hard work as an accountant and some kind of United Nations something or other just to lose it to your wookie ass. I'm sure there are lawns to cut, dishes to wash, houses to clean, and fruit to pick back in Mexico or wherever you're from. Your sons better stay away from my daughters. There will be hell to pay if that happens. Mostly because I haven't seen my daughters since they were still inside their mother's womb and I don't want them to tell the girls where I live. I kind of bailed on her when she started getting fat.
That's America brother. Let freedom ring.
Now that I've thought about this more clearly, Chewbacca can st ay as long as he plays center for the Dallas Mavericks. We could use a more dominating presence on the inside because Dampier sucks. However, you tell that freeloading Yoda to get the hell out of my country.