*Note:
My Grammy recap has nothing to do with musicality. I'm about the hit the big 23. I find that the older I get, the less tolerance I have for new music. Since this is the case, I can't comment on who should have won what.
**Second Note:
I didn't watch the grammys. I never do. I don't like the round of applause that the shitty music industry gives itself every year. I don't care if Kanye West or Adam West wins best record. I wouldn't care if Elton John came out to french kiss some dude dressed like Jesus in black face while the London philharmonic played "Welcome to the Jungle". Fuck that.
***Third Note:
I'm also not going to read any reports on the musical queer off. I'd rather just visit yahoo news and look at pictures of people at the grammys.
**** Fourth Note:
I'm not in a good mood so you people that are expecting my usual "bubble gum and ice cream fart happy go lucky" thoughts are shit out of luck.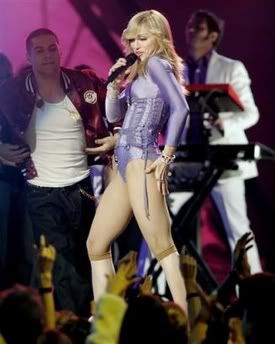 Madonna looks great. This is particularly true if you think "looking great" means resembling an old french drag queen with the clap. I only hear women and homosexuals talk about how great Madonna looks. If this is the look that they're all trying to achieve, I should just cut my penis off now. I'll have no use for it if option A and option B both try to look like the wicked witch of the west on meth. To all you fags* that instant messaged me with "Madonna looks good for an old broad".
A) Fuck you.
B) Just because a girl is in shape doesn't mean that she's hot.
C) Fuck you, again.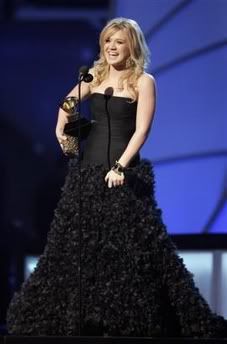 It's always good to see one of the fat chicks from "The Facts of Life" doing well. Along with my reluctance to buy into the ridiculous propaganda that she's hot, my problems with Kelly Clarkson go all the way back to High School. We didn't go to the same High School. I didn't know her. I didn't know of her. However, we did grow up in the same 4-10 mile radius, we're roughly the same age. The probability that we knew the same people and went to the same parties from time to time is very high. That's why my biggest regret in life is not knocking up Kelly Clarkson. I figure that my only shot at success in life is to capitalize on my ridiculously good looks and snake-like charm and get some famous chick pregnant with my unholy multi-racial baby. I don't see this whole writing or entertaining thing working out. I have no real talent and I insult everybody within 3.5 minutes of meeting them. I can't let this interfere with my dream to live like a mixture of K-fed, Larry David, and Vinnie Chase. If anybody knows the Clarkson family, I'd be quite obliged if they could put in a good word for me. Thanks.
The caption for this photo says that this dude just won a Grammy for best Hawaiian album. I didn't know that they had such a specialty category but it makes me want to vomit. It's not that I have anything against Hawaiians. I don't. I just despise the ones that call themselves Asian. I also hate when the "real Asians" call me Hawaiian just because I'm Filipino. I refuse to be associated with people that think it's a good idea to bury swine in the ground before eating it. We all know that eating swine is wrong unless it's in bacon form. Bacon isn't pork.
That last bit of bigotry was unintentional. I've just disgusted myself. Now, I'm going to go smoke shit out of a light bulb. This helps the demons tell me what to do.