I've been accused of not actually reading the stories I comment on. That douche bag said that I just copy and paste and make some generalized hacky bullshit comment followed by a lame picture or two.

CAMBRIDGE, Mass. - Halle Berry had to write "I will not make 'Catwoman II'" on a chalkboard four times Thursday in order to earn her pudding pot as Harvard's Hasty Pudding woman of the year.

Berry's performance in the 2004 action bomb earned her a worst-actress award in last year's Razzies, a spoof of the Oscars that trashes Hollywood's worst.
That guy was right. I was going to talk about my disgust in people that don't think that Catwoman is the single best piece of cinema ever produced. Then I would have posted something like this...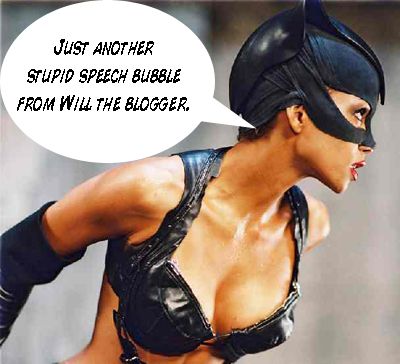 That required no effort at all.

I would have done all this but I got distracted by the little picture of Halle Berry groping her slightly saggy but still delicious boobs. I looked at more pictures and I was shocked to find out that Halle Berry likes to have sex with lame looking white guys dressed like a fairy. I'm sure there is a reasonable explanation for all this but I refuse to read the stories I comment on. I'll just post pictures like a good idiot.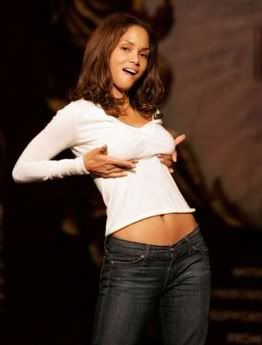 My brothers..
Now we can all rest easier at night. We will no longer wonder if it's possible for losers like us can fuck famous bitches. If Halle Berry is willing to get it on with some lame white homo and a couple of trannys, there is a chance for us all.... unless you're Asian like me. Black women don't like Asian "men".